Education
---
About Our Programs
WHF offers various educational opportunities for teachers and students, such as nature walks throughout our various nature preserves led by our education coordinator and wildlife biologists. These are excellent opportunities for students to get out and experience, live and in person, what nature has to offer. In addition, we offer in-class science labs linked to our field experiences and additional lesson plans to use in class. Teachers: feel free to ask us to plan around what you are studying in class. Our education program director is happy to work with you to create an amazing experience for you and your students.
Discover More!!
The Wildlife Heritage Foundation's Education Outreach Program is a fundamental and vital part of our organization. We are committed to providing educational opportunities for students of all ages to experience, hands-on, the wildlife and habitats of our protected open-space preserves.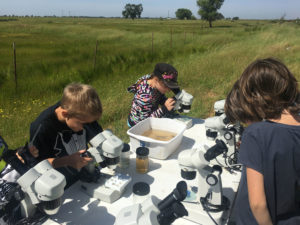 EDUCATION PROGRAM OFFERINGS:
In class science labs
Additional lesson plans
Nature walks
Field trips
All Free
Our Education Coordinator:
What I Do and Why:
As the Education Coordinator at Wildlife Heritage Foundation I am connecting young people to the natural wonders of nature. It is through our outdoor education programming that I get to share and engage students in hands-on activity-based learning whether its spotting a perched raptor as we hike along one of our preserves or inspecting pond water critters under the microscope. It is these outdoor opportunities to see, touch, smell, and hear nature in its raw authentic form that provides a genuine experience and a real connection to the living world around us.
I enjoy sharing the natural world around us with others. It is my hope that I can ignite the same enthusiasm and support in fostering awareness about protecting our wildlife and habitats to create a new generation of conservationists to continue our work into the future. I welcome the opportunity to assist local teachers in developing classroom programs that will engage and enhance their student's connections to the outdoors. For more info, contact Veronica Griffiths, Education Coordinator at vgriffiths@wildlifeheritage.org.